VISUAL ART AT CULTUREFEST!
There are dozens of talented visual artists to discover at Culturefest. Click here to explore artists that will be vending. In addition to artist vendors, this year we feature The Pigment Sanctuary, a unique collaborative of creatives from all over the East Coast, as well as an ongoing collaborative collage workshop with Modern Pop Artist Michael Albert. 
The Pigment Sanctuary VISUAL ARTIST LINEUP 
Silver Arrow Art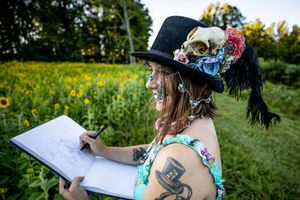 My love for painting stems from the artistic practice my mother instilled in me as a child. It was the one thing that provided not only a way to escape in stressful times, but also a way to slowly manifest the world I wish to see. For nearly a decade I have been a live painter with the crew of magical beings that make up the Pigment Sanctuary. This is where I experienced the immediate impacts of the power that art has on individuals. I graduated with a BFA from James Madison University in 2016, and during the summer of 2017 and 2018 I continued my education with the Vienna Academy of Visionary Art.  I am exploring all the different paths open to me, and while I'm excited to see where I go, I am thoroughly enjoying the journey. silverarrowart.com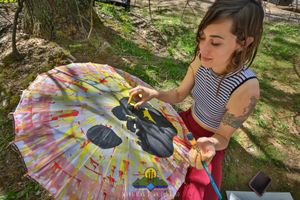 Kettlehead Art 
Ashton Hill is the creator of visionary artworks she affectionately calls "fairytale surrealism" under her pseudonym Kettle Head Art, and a founder of the Pigment Sanctuary Art collective. As an artist, director, and event coordinator, she has made her mark on the East Coast creative scene for nearly a decade. Chasing knowledge from university education to master mentorship, from individual studies to collaborative practices, Ashton has followed her artistic passion into all the spaces that the muses have led. Influencing social change and community improvement have also been part of her purpose, and has exhibited itself in her involvement with outreach and gallery coordination. As director of the Pigment Sanctuary at events such as Mountain Music Festival in the New River Gorge, West Virginia, she has bolstered a community of artists that spans the East Coast. Ashton is currently studying under the tutelage of Master painter Philip Rubinov-Jacobson in the long lineage of mischtechnik, aiming towards apprenticeship. She majored in fine art, psychology and education in her college years and has expounded on her educational pursuits through a variety of self motivated experiences over the last decade. You can find more about her and her work at kettleheadart.com
Leslie Caneda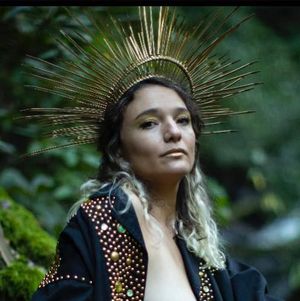 I aim to connect people to their own playfulness of imagination with my art. Whether it be whimsical, energizing, thought provoking, or reflecting of one's own shadow work, I want to tell my story in hopes it can help tell someone else's too. The human condition, I believe is, rooted in creativity, expression, compassion, inventiveness, and the ability to share it with the rest of the universe. I consider any art form, including our own selves, to be fluid, flowing within one another. Art is a noble contribution to our history, our cultures, and what could be.  lesliecaneda.com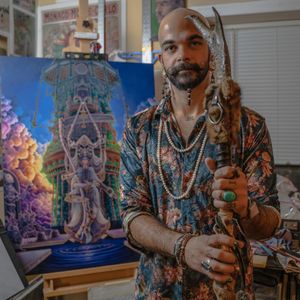 Harrison Lance Crawford 
Harrison Crawford visualizes the abstract fantastical world of deities and divinities and solidifies them on the canvas for their audience. Visually they are well known for their juxtaposition of the saccharine and satanic, personifying the invisible forces that guide human nature. In the same way, they work with ideas, pulling possibilities from a place of fantasy and employing an almost magical ability to create space for those ideas to be discussed and made practical. Seeking to be more than just the renderings on the canvas, they are beginning to facilitate an environment that is culturally and imaginatively intoxicating. 
With few positive examples of success in their own life; growing up between Disneyworld and the Salvador Dali Museum in Florida, these provided the clearest picture of how to make one's name and find a way out, and evidence of these influences can be seen in their art. Deeply dedicated to art, civically and technically, they sought tutorship from masters like Prof. Phillip Robinson and Mantra Cora, specializing in the Mische technique, as well as great artist citizens like those of the RiffRaff Collective. Helping to create a new world with all they were capable of in Princeton, West Virginia, they hope to continue to grow both exponentially and magnificently with new mediums, moments, and artners. hlcrawford.myportfolio.com/vitae
Shannon Shine 
Shannon Shine is not only an Artist and Creator she is also a light bearer, healing facilitator, passion project coach and energy work practitioner, with a focus in natural energy medicine for healing trauma and coping with anxiety and life changes. Coming from a life of many traumatic experiences and much loss Shannon has used art and creativity as a source of healing and grounding to build resilience to the trials and tribulations of every day life. Shannon enjoys using various mediums as a way to express herself. When viewing her creations you will find a variety of multi media designs to glass art and her favorites are acrylic painting and crystal jewelry creation she tends to dabble in all sorts of creative areas. 
Find out more about Shannon at www.Shantasticshine.com or view her passion project and share your own art and music at bringme2life.com 
Topher Glass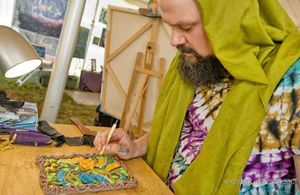 I am Topher Glass from Greensboro NC. I create 3D "paintings" with polymer clay. Most of my pieces are created using UV pigments, bringing them to life when placed under a UV light. My inspirations come from the world around me as well as the world of lore & magic. 
Chaz Heiber is a cartoonist and surrealist pastel artist who lives and works in Harrisonburg Virginia. His personal style shows vibrant colors that match his outgoing personality. 
Caricatures, gag cartoons and surrealistic pastel works are born from his imagination and desire to make the world a place filled with laughter, creativity, and love. Due to growing up in the small farmlands of Virginia, the artwork Chaz has created often is filled with nature scenes that include his own imaginative twist to reality. Outside of pastel surrealism, Chaz enjoys drawing caricatures to bring joy to individuals as he feels we all need to take time to express who are and Laugh more.