VISUAL ART AT CULTUREFEST!
There are dozens of talented visual artists to discover at Culturefest, from vendors to workshop providers and live painters.  Stay tuned for a vendor lineup. Below are some of the Featured Virual Artists at this year's event! 
Silver Arrow Art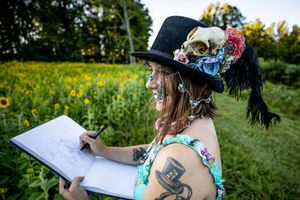 My love for painting stems from the artistic practice my mother instilled in me as a child. It was the one thing that provided not only a way to escape in stressful times, but also a way to slowly manifest the world I wish to see. For nearly a decade I have been a live painter with the crew of magical beings that make up the Pigment Sanctuary. This is where I experienced the immediate impacts of the power that art has on individuals. I graduated with a BFA from James Madison University in 2016, and during the summer of 2017 and 2018 I continued my education with the Vienna Academy of Visionary Art.  I am exploring all the different paths open to me, and while I'm excited to see where I go, I am thoroughly enjoying the journey. silverarrowart.com
Shannon Shine
Shannon Shine is not only an Artist and Creator she is also a light bearer, healing facilitator, passion project coach and energy work practitioner, with a focus in natural energy medicine for healing trauma and coping with anxiety and life changes. Coming from a life of many traumatic experiences and much loss Shannon has used art and creativity as a source of healing and grounding to build resilience to the trials and tribulations of every day life. Shannon enjoys using various mediums as a way to express herself. When viewing her creations you will find a variety of multi media designs to glass art and her favorites are acrylic painting and crystal jewelry creation she tends to dabble in all sorts of creative areas. Find out more about Shannon at www.Shantasticshine.com or view her passion project and share your own art and music at bringme2life.com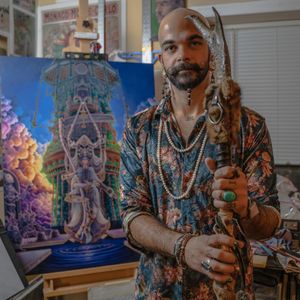 Harrison Lance Crawford 
Harrison Crawford visualizes the abstract fantastical world of deities and divinities and solidifies them on the canvas for their audience. Visually they are well known for their juxtaposition of the saccharine and satanic, personifying the invisible forces that guide human nature. In the same way, they work with ideas, pulling possibilities from a place of fantasy and employing an almost magical ability to create space for those ideas to be discussed and made practical. Seeking to be more than just the renderings on the canvas, they are beginning to facilitate an environment that is culturally and imaginatively intoxicating. 
With few positive examples of success in their own life; growing up between Disneyworld and the Salvador Dali Museum in Florida, these provided the clearest picture of how to make one's name and find a way out, and evidence of these influences can be seen in their art. Deeply dedicated to art, civically and technically, they sought tutorship from masters like Prof. Phillip Robinson and Mantra Cora, specializing in the Mische technique, as well as great artist citizens like those of the RiffRaff Collective. Helping to create a new world with all they were capable of in Princeton, West Virginia, they hope to continue to grow both exponentially and magnificently with new mediums, moments, and artners. hlcrawford.myportfolio.com/vitae